If you have recently acquired an aftermarket car stereo and looking to install it in your classic Ford car or truck, then you'll need to have the basic knowledge of the Ford stereo wiring color code. You may also want to get a wiring harness to enable you to tap into the existing car wiring harness without having to alter or modify the factory wiring.
The wiring harness also makes it easy to remove your Ford factory radio and replace it with an aftermarket unit within the shortest time possible while allowing you to minimize installation-related errors.
When installing a new aftermarket car stereo, you'll only need to match the color codes of the wiring harness with that of your new stereo. Often, your new color stereo will include a wiring diagram that specifies the function of each wire color as highlighted below;
Ford Stereo Wiring Color Code
Color code
Polarity
Use
Red
+
12 V accessory lead that requires the key to be in position for ignition.
Yellow
+
Constant 12 V lead that is used to connect the car stereo to the power source/battery.
Black
–
The black wire hooks to the chassis ground. Once attached, this wire helps you to ground our car stereo.
Orange
+
This is the Illumination lead. Once connected, it delivers a constant 12 volts when you switch on the lights and 0 volts once the lights go off.
Orange/white stripe
+
The orange wire with a white stripe serves as the dimmer lead. Once attached, this wire allows you to adjust/dim the lights using the dimmer control switch.
Blue
Blue/white stripes
+
The blue wire serves as the power antennae lead. You can use this wire to turn on/off your radio or any other audio source.
The blue wire with white stripes is basically the remote turn on lead used to turn on the factory amplifier.
Grey
+
Right front speaker lead for the positive terminal
Grey/ black stripe
–
Right front speaker lead for the negative terminal
White
+
Left front speaker lead for the positive terminal
White/black stripe
–
Left front speaker lead for the negative terminal
Purple
+
Right rear speaker lead for the positive terminal
Purple/ black stripe
–
Right rear speaker lead for the negative terminal
Green
+
Left rear speaker lead for the positive terminal
Green/ black stripe
–
Left rear speaker lead for the negative terminal
Note: Some vehicles may include additional wire color codes that are not included in the table above. As such, we recommend you consult your installation manual to enable you to match your color code correctly. Other common wire color codes include;
Light green—For parking brake
Brown wire—For audio mute. This function is rarely used in most car audio applications.
Violet/white—The wire is used to trigger the reverse gear
Ford Stereo Wiring Diagram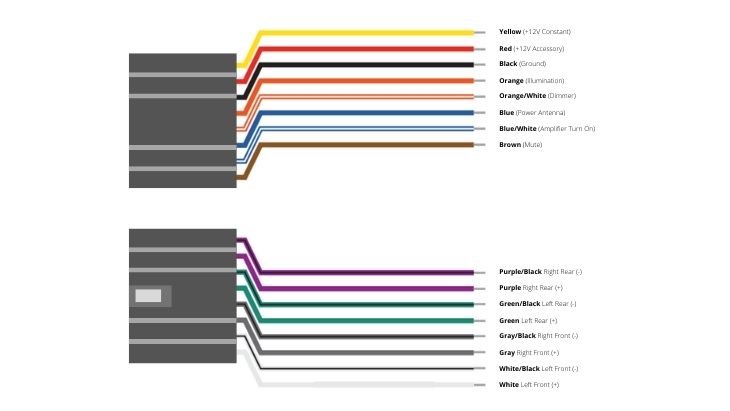 Tips for Wiring Ford Car Stereo
Installing an aftermarket car stereo is not for the faint-hearted, but provided that you're good at following instructions, then you should be able to have the system up and running within no time. Here are a few tips to get you started;
Always ensure to follow safety practices when installing your car stereo. Also, whenever crimping your wire, ensure to use the recommended crimping tool to avoid damaging the wires. Also, remember to disconnect the battery ground before you begin to connect your car stereo components.
Always remember that it is critical that you find a way to install your new radio in a manner that will allow you to access it easily if needed.
All wires need to be soldered to ensure tight connections, and to minimize the risk of accidental shorts. You can also use crimp connectors to join the wires together, but you also need to ensure that they are insulated.
If you're not electronically inclined, consider getting someone with car audio experience to do the installation for you.
Parting Shot!
We now believe that the above Ford stereo wiring diagram will guide you through the installation and help you solve common Ford car stereo problems. The good thing is that the wire codes displayed above are consistent with most aftermarket wiring harnesses, so finding one that is compatible with the make and model of your Ford vehicle should not be a hassle.
You may also Read our Guide on: Sony Car Stereo Wiring Color Codes
Michael Evanchuk is a San Francisco-based sound engineer with 20 years' experience installing, troubleshooting, and repairing commercial, automotive, and household sound equipment. Evanchuk owns an auto stereo center, where he offers highly competitive car audio installation and repair services. He has written dozens of articles on different sound engineering topics, all of which have been published in leading journals, blogs, and websites.