Nissan car radios, especially those found in older models, are often susceptible to sound quality issues. The good thing is that you can easily solve the problems by replacing the faulty Nissan radio with a brand new one.
Upgrading your factory sound system offers you a great opportunity to enjoy the latest digital music files or even access online music streaming services such as Tidal and Spotify. Furthermore, modern technology has made it easier for you to upgrade your car sound system within the shortest time possible.
This guide explains the wiring diagram for replacing old Nissan radio with an aftermarket one. Along with the diagram, we have also included a color chart to guide you on what color goes where. All you need to do is match the industry-standard colors with the colors used in your Nissan model.
Nissan Radio Wiring Diagram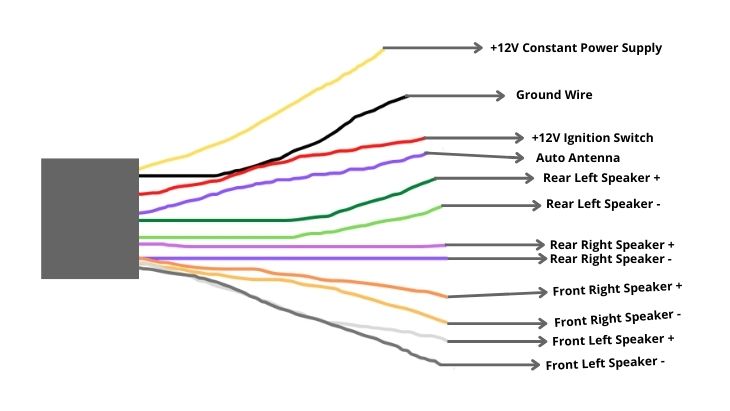 | | |
| --- | --- |
| Color Code | Function |
| Purple | Wire for right rear speaker (+) |
| Purple with a black stripe | Wire for right rear speaker (-) |
| Grey | Wire for right front speaker (+) |
| Grey with a black stripe | Wire for right front speaker (-) |
| White | Wire for left front speaker (+) |
| White with a black stripe | Wire for left front speaker (-) |
| Green | Wire for left rear speaker (+) |
| Green with a black stripe | Wire for left rear speaker (-) |
| Yellow | +12 V battery lead |
| Blue | +12 V power antennae wire |
| Orange | Illumination/ Dimmer lead |
| Red | +12 V accessory wire |
| Black | Ground lead (-) |
NB: Some aftermarket wiring harnesses may alternate a violet wire with a purple one to represent the right rear speaker.
Wiring a New Aftermarket Nissan Radio
Removing Nissan radio is a relatively easy and quick process provided that you have the right equipment. If you're electronically inclined, then it should take you just a few minutes to remove and replace your old/malfunctioning stock head unit. When replacing a factory stereo with an aftermarket unit, the first thing you'll need to do is to determine if the existing wiring harness will plug into the new radio.
The wiring harness features the speaker and power connections, and it is often stuck behind the stock radio. So for you to access the harness, you'll first need to remove the radio in order to gain access to the wiring at the back of it. Once you've matched your old color codes with your new radio, you can reassemble your head unit, you're good to go.
If your Nissan model does not support the universal wiring kit, the aftermarket radio will often include a wiring diagram to get you started. The diagram provides an easy way of discerning the connectors using the color code that leads to it.
Frequently Asked Questions
Q: Can a Nissan car stereo be repaired?
A: Yes. If you suspect that your Nissan car stereo is broken or damaged, you can have it repaired by a qualified mechanic. However, due to the complexity involved in fixing malfunctioning radios, most car owners prefer to have them replaced altogether.
Q: What color codes represent power wiring in a car stereo radio?
A: The standard colors for power wires in any car stereo are yellow, red, and orange. The yellow one is a constant 12 V wire for connecting to the battery, the red one if for ignition, and the orange wire is for illumination/dimmer purposes.
The Bottom Line
There can be many reasons why you may want to replace your old Nissan stereo, but upgrading to new features is by far the most common reason. Even if there is absolutely nothing wrong with your stock radio, better and updated models are released every year, thus rendering the stock unit obsolete. Furthermore, if you're planning to sell your Nissan in the near future, upgrading the car stereo can potentially increase the resale value.
Michael Evanchuk is a San Francisco-based sound engineer with 20 years' experience installing, troubleshooting, and repairing commercial, automotive, and household sound equipment. Evanchuk owns an auto stereo center, where he offers highly competitive car audio installation and repair services. He has written dozens of articles on different sound engineering topics, all of which have been published in leading journals, blogs, and websites.