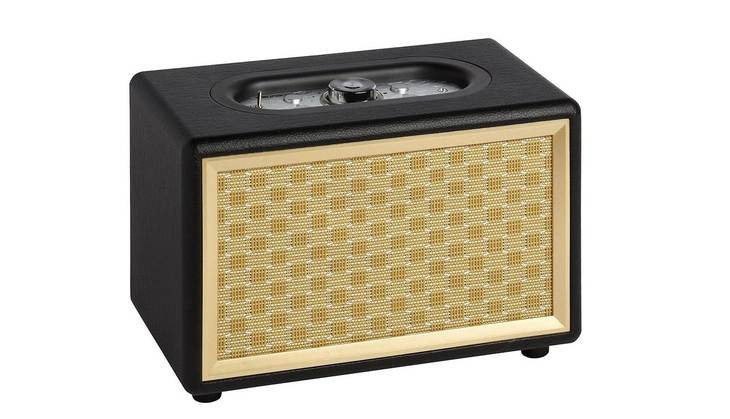 Best Vintage Speakers: Experience Great Sound Quality in Style
Well-engineered vintage speakers provide unique value. First, they perform better than cheap modern speakers. Individuals who prefer to use these speakers are usually keen on quality and class. Brands have so far not let down this segment of their clientele, as evidenced by the array of high-performance vintage speakers on the market.
Secondly, vintage speakers are an additional piece of art for any space that has an old-fashioned touch to the furniture and interior décor. Amidst other items in an antique-styled space, a vintage speaker fit perfectly, whether placed on a table or shelf. Its presence introduces a special, relaxed, and nostalgic atmosphere, which makes the space a great hide-away from the hustle and bustle of modern life.
If this is the kind of experience you want to have in your home, or add to a bar area, the comparison table below gives an overview of 10 high-performance vintage speakers. Below it are detailed reviews of each speaker. Ultimately, this well-researched guide offers you the most important information you need to select the best vintage speaker for your space and listening needs.
Comparison Table
Is it Portable?
Does it have radio?


Portable: Yes
Radio: FM only

Portable: No
Radio: FM only

Portable: Yes
Radio: FM only
Of all the speakers in the Stanmore's Marshall Series, the Stanmore II is the most versatile. It's your perfect stay-at-home vintage speaker for the standard room size. In addition to filling the space with clean and precise audio, it achieves a laid-back look for you room.
Main Features
Verdict:
Despite the fact that you cannot take this vintage speaker outside to wherever you like, it's an awesome choice for the house if you care about clean and clear wirelessly sourced audio.
Let Marshall Stanmore II vintage speaker complete the look of your room while fulfilling your audio listening needs.
2. ClearClick Vintage Retro Style Speaker
This cool-looking impresser isessentially a 2-band radio with Bluetooth connectivity. While you get mesmerized by its authentic 1930s look, it locks in AM and FM stations very well to keep you in sweet nostalgia throughout every listening session. What can this distinctively antique radio/BT speaker do?
Features and capabilities
Verdict:
This ClearClick vintage speaker and AM/FM radio manages the ideal balance between looks, sound, and ease of use. Of course, you don't expect loud sound from it. What's certain is that it will give you nice radio listening experiences, and it's a great Bluetooth receiver as well.
Transport yourself back in time with this old-fashioned speaker from ClearClick.
3. Greadio Vintage Speaker: Best Battery-powered Vintage Radio
Through articulate craftsmanship and tech expertise, Greadio has managed to bring back the 1950s radio and music listening experience. The only difference between this vintage radio/BT speaker and those of the golden age of music is the addition of a reasonable touch of digital operability for your convenience.
Attributes of Greadio Vintage Speaker
Verdict:
This small entertainment wizard is a perfect choice if you want a small radio for an office desk. It also fits home applications, whether indoors or outdoors.

Try this Greadio gem to experience the best digital audio technology in a retro classic wood-crafted vintage radio/BT speaker.
The TY-CWU700 looks cute at the end of a wooden table in the living room, kitchen or fireplace. Among the things you'll like most about it is great build quality. Knobs are solid and tune the volume or radio channels accurately. Moreover, it has more compatibility features and capabilities than most competing vintage speakers. Let's explore these features.
Toshiba TY-CWU700 Features
Verdict:
Classic appearance, ease of use, and good sound quality are the most attractive attributes of this Toshiba antique masterpiece. It promises you memorable radio, Bluetooth streaming, and MP3 playback moments at home.

Consider Toshiba TY-CWU700; a small vintage speaker/FM radio that packs excellent versatility and sound performance.
5. TEWELL Retrorock Computer Speaker
Inbuilt computer speakers don't care about reproducing sound with fidelity to the source. Maybe your computer's internal speakers always push you to the edge with annoyingly weak sound. You don't have to let this happen while TEWELL has availed an inexpensive vintage-style speaker that can connect to your computer as well as other devices.
Highlights of TEWELL Computer Speaker
Verdict:
Evidently, the Retrorock model is one of the most innovative Bluetooth speakers designed by TEWELL. It also ranks highly among best vintage speakers across the market. The hallmarks of its competitiveness are clean high trebles, clear lows, and a life-like mid-bass.
At its highly competitive price, this DEWELL Bluetooth retro speaker provides great value for the dollar.
6. Rerii Handmade Vintage Speaker
Whatever you missed in the plugged-in, FM-only Bluetooth speakers you've met so far, this small Rerii portable speaker has it. A warm-colored, handcrafted, Walnut construction embodies clear and crisp audio delivery. With its exquisite looks, it can complete the vintage-themed appearance of any home or work space.
Main features
Verdict:
This stereo capable Bluetooth and FM receiver is a champion in its own rights. It manages the loudest undistorted volume, has great battery capacity, and outstanding FM sensitivity.
Choose Rerii handmade battery-powered speaker for phenomenal audio output and an authentic vintage vibe.
7. Pyle PUNP34BT Vintage Speaker
Pyle is a well-known brand in the audio equipment industry. The company boasts a wide variety of award-winning speakers and subwoofers. This vintage speaker packs highly competitive features to ensure you get the best modern audio technology in style. Top on the list of important things to note about the PUNP34BT is its diverse ways of connecting to audio devices. Explore more about it below:
Features and benefits of Pyle PUNP34BT
Verdict:
The retro-styled Pyle radio and Bluetooth speaker receiver fills the room with dynamic sound. It can function as a simple radio system and also as a center piece of a bigger home sound system.
Let Pyle PUNP34BT add flare to the appearance of your room while offering you versatile audio playback options.
The unique vintage leather design of this wireless speaker catches the eye. On further interaction with it, we were amazed to know that it can work plugged in and also using battery power. Besides, Owlee has used advanced technology to achieve an immersive sound coverage in a compact speaker design. What's more?
Attributes of Owlee Scroll vintage speaker
Verdict:
Owlee Scroll is an ingenious combination of audio brilliance and captivating esthetics. It derives a powerful and luxurious effect from each of your audio listening experiences. Besides, it works with all devices - Apple, Android, or Windows smartphones, tablets and computers.
Add Owlee Scroll to your space to score melodic excellence while enhancing the room's esthetics.
9. Rekome Portable Retro Bluetooth Speaker
Versatility is always welcome, and this Rekome masterpiece doesn't shy away from being everything good you can find in such a small unit. It functions as a Bluetooth speaker as well as an FM radio. And, it can operate in plugged-in mode or using the power of its rechargeable battery.
Main Features
Verdict:
Modern convenience in a retro package; this is the best description of this Rekome genius. It's strongly built, eye-pleasing, and highly versatile. Most importantly, its sound quality is astonishingly good for such a small unit.
Make your days livelier with this inexpensive vintage radio and Bluetooth receiver.


10. Master Tailgaters FuseRAD-V1 Vintage Speaker
Master Tailgaters closes our list of 10 best vintage speakers with this exquisitely handcrafted radio and Bluetooth receiver. Weighing in at 7 pounds and measuring 10" x 6.5" x 11", the radio is significantly bigger than most of the vintage radios we've seen. You know what that means; the possibility of bigger and better sound. But does the speaker live up to our expectations? Let's see:
Features of the Fuse RAD-V1
Verdict:
You don't have to sacrifice modern convenience when adding a vintage radio or speaker into your space. This Master Tailgaters marvelous sound champion gives you the best of both worlds – great old-school esthetics and premium-quality sound.
Don't hesitate to try the Fuse RAD-V1 vintage radio and Bluetooth speaker if you love great quality sound.
Factors to Consider When Choosing the Best Vintage Speaker
As audio equipment brands continue to compete for market leadership, the more sophisticated their products are becoming. This is a good thing for audio fans like you because the released products come with increasingly convenient features, as has been the case with vintage speakers. Today, leading brands are designing speakers that deliver high-quality sound while providing significant enhancement to old-fashioned space setups.
While out shopping for vintage speakers, it's important to keep in mind a few critical factors.
These factors determine the value you get from the product you choose:
i. Looks
The main reason for buying a vintage speaker as opposed to a modern-design speaker is to give your space an authentic old-fashioned outlook. While many manufacturers try to achieve this objective, not all of them meet the expectations. Before clicking that 'add to cart' button, inspect the speaker's exterior to make sure that it has the look and feel you want to add to your space.
Some vintage speakers are made fromreal wood while others have a leather covering. You make the ultimate decision based on your preferences and the nature of your furniture.
ii. Sound quality
More than anything else, you want the speaker to produce sound that you can look forward to experiencing or using to entertain your guests. A number of aspects will determine the kind of sound you get, including:
iii. Portability
Here is the beginning of the differences between vintage speaker models. Some models operate in plugged-in mode as well as battery-powered mode. Such units enable you to carry your music outside the house. Make sure to check a few critical aspects of the battery. How long does it take to charge? How many hours does it last while powering the speaker in different modes?
Other models, however, don't come with an in-built battery. You can only use them where there are power sockets, and this hinders their portability.
iv. Connectivity
Every user is keen to know how well additional audio equipment can work with their daily use electronic devices. When selecting a vintage speaker, check that it can connect with the devices you use. Most come with Bluetooth connectivity, but you've to check how strong the Bluetooth is, and whether there are issues connecting to specific gadgets.
In addition to connecting the speaker via Bluetooth, can you connect other devices via USB, AUX, flash drive, or micro SD card ports? The wider the variety of connectivity options, the greater the number of devices you can use with the speaker.
v. Control features
Antique-design speakers try to meet the old-fashioned look across the design of the unit. However, it's important to ensure that the efficiency of these controls is not sacrificed in the process of meeting esthetic objectives. Inspect the buttons and knobs. Are they well-built, or are some knobs flimsy so that they couldpluck off sooner than later?
Other questions for which you need to seek answers include:
vi. Extra features
Other features that might improve your experience with the speaker include an in-built mic, and LED and dial up lights. The inclusion of an in-built microphone allows you to make hands-free calls. Some designers include different LED illumination colors to indicate different operation modes. Dial up illumination can also enhance the visual appeal of the unit while at work.
The above factors make more or less the most critical considerations to make when selecting a vintage speaker.
Our choice for the best vintage speaker in 2021 is Marshall Stanmore II
The power capabilities of this classic vintage-style speaker are striking. With the help of three amplifiers, it delivers thunderous sound with accurately balanced frequencies. It's nothing like a boombox or the average Bluetooth speaker, no wonder it has received thousands of positive user reviews.
Secondly, the Stanmore II can connect to two devices simultaneously via Bluetooth. This aspect sets it apart from the majority of the competition. You'll certainly enjoy the convenience of switching between audio sources in a split–second. And for easier control of your music, you can download for free the Marshall Bluetooth app.
The other unique thing about the Marshall Stanmore II is Qualcomm aptX capability, which offers additional opportunities to connect with more devices.
Finally, the speaker is compatible with Alexa. Thus, it is a great choice for anyone who loves the convenience of different home automation technology.