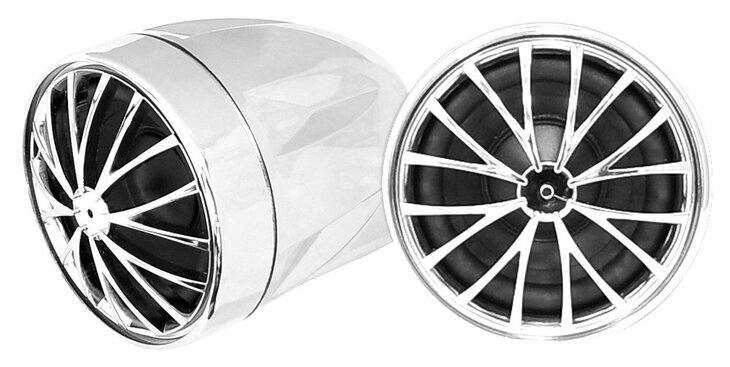 Best Motorcycle Speakers- Top 8 Reviews and Buyer's Guide
There is nothing that feels better than riding your motorcycle while listening to music. The experience can be better when using the best-sounding motorcycle speakers. While some bikers wear headphones or earbuds while riding their motorcycles, this is not a safe option as you risk your safety. The best and safest option is to install the best motorcycle speakers.
Motorcycle speakers are advantageous in several ways. For instance, top-quality motorcycle speakers will make your ride more enjoyable. You'll find it easier to navigate through unfamiliar routes as you can connect them to a smartphone and listen to voice navigation more clearly. These speakers are great for outdoor entertainment as you can use them anywhere you go with your motorcycle. Also, they increase a motorcycle's resale value just in case you'll want to sell it in the future.
Motorcycle speakers are available in several designs and types. Choosing the right ones for your motorcycle can be quite hectic. If you've landed on this page, you're lucky as we've made everything easier for you. Our researchers have picked and tested several motorcycle speakers and recommended the best options. Learn more about the top picks by reading through this guide.
Quick Comparison Table
Top 8 Motorcycle Speakers Reviews
Not all motorcycle speakers do a great job when it comes to sound reproduction. But how would you know the best ones considering the numerous options available today? This is where our motorcycle speaker reviews come in handy. Read on for the best speaker selections for motorcycles.
1. Best Overall: Boss Audio Systems MCBK420B
This pair of motorcycle speakers from Boss Audio Systems is our top pick. They're specially designed for use on motorcycles, scooters, touring bikes, and ATVs. Whether you're exploring a town, riding on a road trip, or a trail, they're a superb choice for blasting your favorite music on a motorcycle.
Top Features
Verdict:
The Boss Audio Systems MCBK420B motorcycle speakers are superb for use in all weather conditions, thanks to their weatherproof design.
2. Best Aesthetics: LEXIN LX-S3
The design behind these pair of speakers from LEXIN makes them look extremely great. Besides their aesthetics, these speakers sound great, even when cruising at high speed.
Top Features
Verdict:
The chrome-plated finish of these LEXIN LX-S3 motorcycle Bluetooth speakers makes them a perfect choice for a motorcyclist who values aesthetics and wants polished accessories for their motorcycle.
3. Best Portable: JBL Wind
JBL is among the leading brands of audio equipment. The JBL Wind Bluetooth speaker is designed as a portable speaker that's ideal for use with both motorcycles and bicycles. Its waterproof design makes it great for all-weather use.
Top Features
Verdict:
If you're searching for a portable motorcycle speaker, you won't go wrong with this JBL Wind Bluetooth motorcycle speaker.
4. Best Weatherproof: BOSS Audio Systems MC420B
We've picked yet another pair of BOSS Audio motorcycle speakers in our review due to their unmatched weatherproof design. These pair of speakers feature left and right silver-plated speakers. Each speaker has a diameter of 3 inches.
Top Features
Verdict:
Overall, these BOSS Audio Systems MC420B motorcycle speakers stand out for their weatherproof design, making them ideal for use under any outdoor weather condition.
5. Best Budget: GoHawk RD8
The GoHawk RD8 speaker is designed as a handlebar soundbar speaker for motorcycles. It can be mounted on a motorcycle with a handlebar diameter ranging from 7/8 to 1.25 inches. Mounting clamps are provided for easier installation.
Top Features
Verdict:
If you're working with a tight budget and looking for a high-performance budget speaker, then this is one of the best motorcycle speakers to consider.
6. Best High-End Option: Kuryakyn 2720
This motorcycle speaker from Kuryakyn 2720 is designed as a soundbar. It's packed with 300 watts of power for loud high-quality sound. Its satin black color makes it match with just about any motorcycle finish.
Top Features
Verdict:
If you love adding high-end accessories to your motorcycle, consider adding this Kuryakyn 2720 motorcycle soundbar. It'll instantly enhance the value of your motorcycle.
7. Best for Harley-Davidson Motorcycles: Rockford Fosgate TMS6RG
Rockford Fosgate is among the leading manufacturers of sound equipment, including motorcycle speakers. These Rockford Fosgate TMS6RG motorcycle speakers are designed as full-range coaxial speakers. Each speaker in the pair is designed as a 6.5-inch speaker.
Top Features
Verdict:
If you own a Harley-Davidson motorcycle (1998 to 2013 models), then these pair of Rockford Fosgate TMS6RG motorcycle speakers are your best bet.
8. Best Mid-Price: Rockville RockNRide 3"
These motorcycle speakers from Rockville come as a pair of 3-inch speakers with a durable metallic housing. They're designed as handlebar speakers with a straightforward installation process.
Top Features
Verdict:
The Rockville RockNRide 3" motorcycle speakers are best suitable for anyone who loves cruising their motorcycle while listening to FM radio.
How to Find the Best Motorcycle Speakers
Motorcycle speakers are great for entertaining a rider and their passenger. However, the speakers can only entertain you if you choose the right ones for your motorcycle. As you can see from our reviews, there're many brands of motorcycle stereo speakers available today. Here're some tips that can assist you to make the right choice without a lot of confusion.
1. Mounting option
Motorcycle speakers are available as either handlebar speakers or helmet motorcycle speakers. To start with, handlebar speakers are those that are mounted on motorcycle handlebars. They come with mounting brackets that make it possible to install them on the handlebars.
On the other hand, helmet motorcycle speakers are fitted on the helmet. They're made using innovative technology for enhanced portability and wireless connectivity. Helmet speakers often feature functionalities such as hands-free calling, voice GPS navigation, and Bluetooth. Generally, helmet speakers are easier to set up than handlebar speakers. However, handlebar speakers are often more powerful than helmet speakers.
2. Supported input sources
The kind of audio sources supported by a certain brand of motorcycle speakers will greatly influence whether it's the right option for your needs. For instance, if you love listening to radio, consider a speaker that comes with FM radio. Also, it'll help to choose a speaker that supports Bluetooth connectivity to stream music wirelessly from Bluetooth-enabled devices. Other important input sources to consider are USB input and AUX input. At least, ensure the speakers you choose can play music from your most preferred audio devices.
3. Weatherproof
Essentially, a motorcycle is used in the outdoor environment. Since motorcycles are not covered like regular cars, they're exposed to harsh weather elements such as rain, ice, and dust. Thus, you should ensure the speakers you're choosing are weatherproof. Most importantly, ensure they're water-resistant. They shouldn't get damaged by rain or water splashes when cleaning your motorcycle.
4. Ease of installation
It'll help to choose speakers that are easy to install. If you're choosing handlebar speakers, ensure they come with installation hardware for easier mounting. Also, ensure the mounting brackets are adjustable and can fit around your handlebars. If wiring is needed, ensure the speakers come with all the necessary cabling. Plug and play cabling would be the easiest option to work with since there's no soldering required.
5. Sound quality
It's important to go for speakers that can deliver clear and loud sound despite the noise made by your motorcycle's engine. They should be audible when cruising at high speeds despite the windy conditions. Also, consider choosing full-range speakers to enjoy hearing all music details from your favorite playlist.
6. Ease of control
Another important consideration to make is the ease of control. The speaker system should come with controls to make certain operations such as volume up/down and skip next/previous track among others. It will be even better to choose a speaker that comes with remote control for enhanced safety. Remote control will allow you to make various controls safely while riding your motorcycle.
Final Words
Stereo speakers aren't only restricted to cars. You can also add a stereo system to your motorcycle and equip it with the best motorcycle speakers to enjoy listening to your favorite music while cruising. Installing the best speakers for your motorcycle will allow you to have a more enjoyable ride, especially when traveling a long distance. By keeping this guide and reviews in mind, you'll stand better chances of getting the best stereo speakers for your motorcycle.