With over forty years of continuous quality speaker production, Focal remains a real deal in the industry. Focal speakers originate from Saint-Etienne, France, by Vervent Audio Group and are an exclusive innovation.
The big question is, why are they still deep in business, yet their prices seem so unfriendly? Focal speakers are known for handling high power and producing sound naturally.
And they have a range of speakers, from home audio loudspeakers, recording studio loudspeakers, car speaker drivers and amplifiers, and now the headphones. All these speakers are high-end.
Well, does this answer your question–why are focal speakers so expensive? No? Stick around. There's more to chew on this.
Factors That Make Focal Speakers Stand Out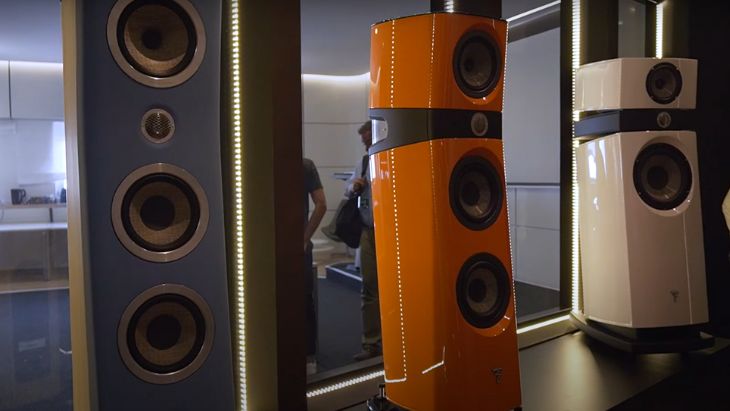 From the outward look to performance, Focal speakers have exciting features. Here are the factors that make Focal speakers expensive but worth your money.
1. Excellent Cabinets and Drivers
While it is easier to outsource some aspects of the manufacturing process of the speakers, Focal speakers do it differently.
First, it is crucial to note that cabinets are essential for unmistakable tones and quality speakers have excellent cabinets. So, to ace this game, Focal has cabinet makers and manufacturers able to make outstanding cabinets. For instance, the coverings of Hi-Fi and high 3rd professional loudspeakers such as Utopia and Sopra.
And because Focal designs manufacture its drivers independently with all the specifications they prefer, they can quickly avoid third-party delays and disappointment.
2. Attention to Details—In the Music Beats
From the lyrics to the little details in the beats, musicians take time to make good music. But getting a speaker or woofer distorting the high-end music is expected. Well, Focal doesn't ruin this for you. It honors musical creations by revealing every nuance with precision and purity.
Have you ever listened to music from speakers that roused your emotions? Focal speakers have unrivaled sound quality. It is possible due to the professionalism invested in making the speakers; every component is essential and treated with finesse and the time it deserves.
3. Unique Focal Designs
With Focal, it's not about the eminence of music played alone but the outward look to get you attracted to listen. In France, focal has a team of experienced engineers whose innovations and development strategies are on another level.
Focal has complete control over its designs. For this reason, they have high-performance speakers, which amateurs don't match up to in building speaker systems. They work with professional audio engineers who spent years learning about acoustics and building speakers.
4. Focal Sound Everywhere
Now you have listened to music from Focal speakers, and you can't get enough of it. Don't fret. You can have your Focal speakers with you everywhere. These speakers are made to accommodate all your needs.
The Hi-fi headphones are used anywhere, from sound bars for your living room to the car audio kits, which are the best while on the move. Besides, most Focal speakers are waterproof and dustproof, making them an excellent outdoor fit.
5. Focal Has the Neutral Inductance Circuit (NIC)
If you're not a sound enthusiast, then it is highly likely that the term NIC sounds foreign. For audio production that has clarity and balance, there's dependence on the stability of the electromagnetic field. Focal has a way to make all this possible–through NIC.
Focal manufacturers made an interesting discovery concerning the magnetic field. And this has been an answer to stable magnetic circuits for brands like the Sopra line.
The magnetic field is unstable because of three things that affect how it is modulated:
the voice coil's motion (Lenz's law),
the flow of electricity through it (Foucault current)
the regularity.
As a result, the magnetic field around the voice coil and every other moving component, including the cone, becomes too variable, decreasing precision. But NIC solves it all. Thus, focal speakers are so expensive.
6. The Tuned Mass Damper (TMD)—A Unique Invention
Ensuring a balance in the midrange register has always proven challenging for most sound manufacturers. A good balance in the midrange ensures smooth bass transitions, is successfully tuned to a tweeter and plays a part in spatialization and timbre uniformity.
Another aspect is the deformation of the cone, causing sound distortion. Therefore, Focal engineers sought a solution to the mentioned challenges and came up with TMD.
Focal found the TMD solution in a technology utilized in racing vehicles and skyscrapers that can withstand earthquakes! Tuned Mass Damper is about a second mass oscillating in opposition to the resonance frequency to control it.
Tuned Mass Damper (TMD) stabilizes the surround's dynamic behavior following resonance to prevent cone deflection without compromising dynamics.
How Good Are Focal Speakers? A Quick Review
So far, you can identify why focal speakers are worth your money. Even so, how good are these speakers? To answer this, let's review various matching focal products for your home:
Astral 16
Have you heard of a wall-in-ceiling speaker? Focal has this ideal option. The speakers flawlessly coordinate all the elements of a stunning Home Cinema installation. Astral 16 brings out the best in high-fidelity, containing 16 channels with a class D Pascal Audio amplifier.
From the 16 channels, 12 are amplified, and four are pre-amplified. It gives the speakers balanced XLR outputs and is best for audio filtering, equalization, and bass management.
This strong foundation officially extends your invitation to an immersive adventure with unmatched-quality sights and sounds.
100 OD6 Loudspeaker
These speakers will be a good fit if you have naughty kids at home. 100 OD6 loudspeaker is IP66 certified, meaning it is fully waterproof.
The speakers' cabinets are UV treated, and the process adds value to the speakers since it has an Ingress protection rating of 66—an international standard. The UV treatment is what makes them dustproof and waterproof.
Moreover, it integrates various Focal technologies to produce high-fidelity sound outside.
Thanks to its strengthened, notched assembly bracket, it is effortless to install and place it due to its 180-degree rotating system.
The grille and cabinet are available in black or white ready-to-paint finishes since, at Focal, attention is devoted to every little detail and satisfying every taste.
100 OD8 Loudspeaker
Like the 100 0D6 loudspeakers, 100 0D8 is also IP66 certified. These speakers closely resemble the 100 OD6 speakers in features and performance. The difference is in pricing and size.
Besides, with 0D8, it is possible to have parallel connections as it has a higher impedance of 8 ohms. 100 OD8 loudspeaker has a price range of $299 and weighs 9.00lbs only. It is suitable for your home.
Conclusion
Are Focal speakers expensive? Yes. Focal speakers are exceptional and costly. From this read, you have an idea of the effort put into the manufacturing process, the professionalism of the engineers, and the superb management that makes Focal fantastic. Focal speakers are a unique way to hear your music in any home setup or outdoor activity.
Michael Evanchuk is a San Francisco-based sound engineer with 20 years' experience installing, troubleshooting, and repairing commercial, automotive, and household sound equipment. Evanchuk owns an auto stereo center, where he offers highly competitive car audio installation and repair services. He has written dozens of articles on different sound engineering topics, all of which have been published in leading journals, blogs, and websites.