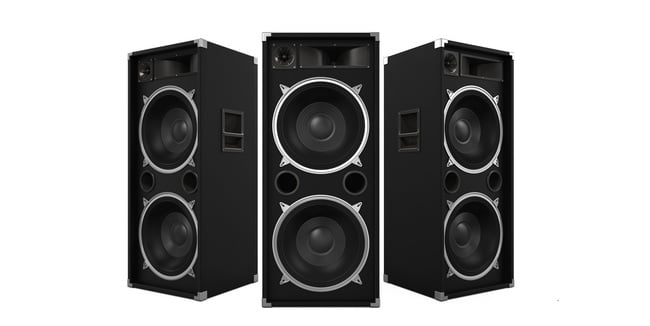 Best Party Speakers for Indoor and Outdoor Parties
Holding small, frequent parties is amazing. You get an opportunity to make a special group of people happy. Good food and cold drinks make for a warm welcome sign. However, only one thing can make for a truly enjoyable party experience – great music.
A nice system is all people need to dance the night away. On the contrary, unsatisfying music can make your guests leave sooner than desired. This is why choosing a party speaker is a vital undertaking.
You hate mediocre music and that's why you are here looking for the best party speakers. Today's your lucky day because our efforts have yielded awesome results. We've compiled a list of 8 party speakers from top brands and with the best features and capabilities.
What type and size of party speaker do you need?
Do you want a wired or battery-powered?
Or is your preference a party speaker that you can use as a PA system?
Take a quick look at our top picks in the table below. Detailed reviews of each of the speakers follow immediately after the table.
Comparison table
1. Aiwa Exos-9 Portable Bluetooth Speaker
Keep the party morale fired up throughout the night with this Aiwa Exos-9 Bluetooth speaker. It is a portable, battery-powered sound champion can help you set up a dance party anywhere. Most notably, its truly dynamic sound response will encourage even the most reserved of your guests to hit the dance floor.
Aiwa Exos-9 Features
Verdict:
The Exos-9 is unbeatable in sound output and portability. Besides, it's one of the most user-friendly Bluetooth party speakers we've come across. The only major shortcoming is that it's not waterproof so you cannot use it in extreme weather.

Have Aiwa Exos-9 on standby – a reliable companion anytime when you want to set up a party.
2. AOMAIS Portable IPX7 Waterproof Bluetooth Speaker
The solid feel of this AOMAIS IPX7 waterproof speaker tells you it's up to something good. Boasting four high-performance sound drivers, the ergonomically designed speaker delivers all details in your music with incredible precision and richness. Besides, many users also expressed their appreciation for the clear hands-free calling capability of the speaker.
Features of AOMAIS IPX7 BT Speaker
Verdict:
We loved this speaker for its high-quality sound. Its loudness, especially, is a nice surprise from such a small speaker. Besides, the strong and waterproof exterior promises longevity.

Get the AOMAIS IPX7 Bluetooth speaker – a dependable all-weather party speaker with a small footprint.
3. ION Audio Block Rocker Plus
Are you planning for a backyard party and need a speaker that can keep the entertainment on top level while also acting as a PA system?
The ION Audio Block Rocker Plus rocks in such circumstances. It's a legendary speaker that plays audio from almost any Bluetooth-enabled device. See below what it has to offer:
Key Features of ION Audio Block Rocker Plus
Verdict:
A 100-Watt Bluetooth party speaker with radio and flexible wireless and wired connectivity is a great investment in your entertainment system. This ION sound champion does everything it says it can do.

Try ION Audio Block Rocker Plus speaker for superior high-fidelity sound anywhere.
4. SOUNDBOKS 2 - The Loudest Portable Party Speaker Ideal for Outdoors
Designed to take on the wildest parties and unforgiving environments, this 33-lbs fully wireless loudspeaker is in a league of its own. The Bluetooth loudspeaker is the perfect choice for bigger outdoor parties. Just seeing this speaker gives one a strong desire to try it out. It looks like an armored car, which implies unmatched structural strength and incredible durability.
Main highlights of Soundboks 2
Verdict:
The superior features and durability of this party speaker make it immensely attractive to serious outdoor party fans. If you are looking for a tailgate speaker for extreme uses, this beefy big boy will not disappoint.

Let SOUNDBOKS 2 electrify your party with its thunderous sound.
5. Sony GTK-XB72 High Power Home Audio System
Sony could not miss this party. It bounces in with the GTK-XB72 - a compactly-designed party speaker that you can set up in minutes to get the party going. This speaker offers powerful sound marked by reinforced bass lines and a distinctive mids. Check out its features below.
Sony GTK-XB72 Features
Verdict:
This Sony contender is an amazing party speaker. It doesn't only give out beautiful sound but also a chance to play around with the output as you wish. Despite coming short slightly on portability, the GTK-XB72 ticks all other boxes of a top-performing party speaker.

Sony GTK-XB72 offers a unique chance to enjoy customized sound. Try it out.
6. TOMPROAD Portable Bluetooth Speaker
Over and above the common capabilities of a Bluetooth speaker, this TOMPROAD packs useful convenience features. It is the best on-the-go speaker to have around the house as well as outdoors when traveling or camping. Noteworthy, this speaker is primed for multi-mode application – from Bluetooth and AUX input to FM radio and TF card playback.
Key highlights
Verdict:
While this TOMPROAD Bluetooth speaker won't boom with bass, it is a great portable unit for on-the-go listening. It performs well in most light-duty indoor applications and some outdoor uses as long as you don't expose it to extreme weather.

If all you need is a simple remote-controlled Bluetooth party speaker, don't hesitate to try this TOMPROAD masterpiece.
7. Pohopa 10w Waterproof Bluetooth Speaker
Closing in on the finish line, here is one of Pohopa's best speakers. It captivated us instantly with its vibrant sound and delightful LED lights. Of course, there is more about this Bluetooth speaker to make anyone looking for a party speaker happy. See its outstanding features below:
Features of Pohopa 10w Bluetooth Speaker
Verdict:
This professionally-designed Bluetooth speaker offers everything you'd need in a portable speaker. Based on our research analysis, multi-device pairing capability and durable waterproof body are the major reasons users consider it one of the best party speakers available.

Get yourself this Pohopa party speaker to enjoy unforgettable indoor and outdoor listening experiences.
8. QFX PBX-61081BT/SI Portable
Finishing off today's review of best party speakers is this relatively larger QFX speaker. The PBX-61081BT beats many competitors in battery power and versatility. Weighing 10.5 lbs, it's not the most lightweight party speaker in the lot. Nevertheless, it's still easily portable thanks to its wheeled suitcase design.
Key features of QFX PBX-61081BT
Verdict:
This unit is definitely a great pick for quality music on the go. It gives out satisfying sound and it's easy to move around despite being fairly large.

At its current price, QFX PBX-61081BT is a great bargain.
Factors to Consider When Choosing the Best Party Speaker
The right speaker can ramp up the participants' enthusiasm by providing sensational music. You can find it easily if you have a fool-proof selection plan. The following discussion of key factors to consider when looking for a party speaker will prove useful during your shopping.
i. Sound output
The kind of sound a particular party speaker produces is the topmost priority when choosing a party speaker. You want to invest in a unit that will provide impressive sound, otherwise the party will suck. Particularly, you want a speaker that gives out loud sound with a significant amount of bass.
The presence of dual drivers and bass radiators is a good sign of considerably deep bass and an elevated overall audio response. Also, pay attention to the speaker's output power. A higher power output means better capability to produce bigger sound.
ii. Connectivity
Most portable party speakers have Bluetooth as the main connectivity medium. Critical aspects to consider when assessing Bluetooth connectivity include how fast the speaker connects to an audio source, connection range, and connection strength. This information is readily available in users' reviews; you just need sufficient time to go through some of these reviews.
Additional wireless connectivity options are welcome. For instance, NFC connectivity extends the variety of devices with which the speaker can work. There are models that even support Google Assistant, Siri, Alexa and other software. It doesn't hurt for a speaker to have extra connection ability.
iii. Durability
Parties often don't end with the same calm as they started. A lot of crazy things can happen while people jump and toss their happy bodies around. And when it comes to outdoor parties, the weather can be unforgivingly destructive to delicately-built speakers.
A speaker that can handle a little bit of abuse, whether physical or environmental, will save you a lot of money. Many party speakers are built with sturdy, waterproof cabinets.
What environments will the speaker be used, and what kind of guests are you expecting?
Answering these questions can help to determine the required toughness on the part of the speaker construction.
iv. Portability
This factor is critical especially to users who have to move the speaker frequently. If your best party speaker is a small unit that you can grab quickly or stash in a bag, the speaker's weight might be all you need to consider. For bigger speakers, however, conveniently-placed handles and wheels are crucial design features for easier transportation.
v. Battery
A memorable music listening experience is unachievable if the powering system is not up to the game. Most portable speakers operate with a rechargeable battery. Key considerations to make about the battery include its charge holding capacity and the time it gets to recharge.
A powerful battery that lasts many hours will give you uninterrupted fun. In addition, batteries that can charge your small gadgets such as phones and tablets make the whole experience stress-free.
You can now go ahead and choose one among the excellent options we've reviewed.
Why is Aiwa Exos-9 our pick for the best party speaker?
Outstanding build quality, reliable battery power, and clean and dynamic sound are the reasons Aiwa Exos-9 has won the hearts of many audio fans. This portable Bluetooth speaker takes every track thrown to it and gives back a well-balanced and captivating output. It is among the most thoughtfully-designed 5-driver party speakers available.
We were very impressed with its flawless wireless streaming capability. Also, the EQ function that helps you to tweak the sound to your liking is a big plus. Doesn't it feel good to have a speaker that allows you to customize the output?
The EXOS-9 is neither the cheapest nor the most expensive party speaker around. Initially, some of our team members thought it was a bit expensive. Upon hearing what it can deliver, however, everyone agreed that it's a great performer that delivers beyond expectations.