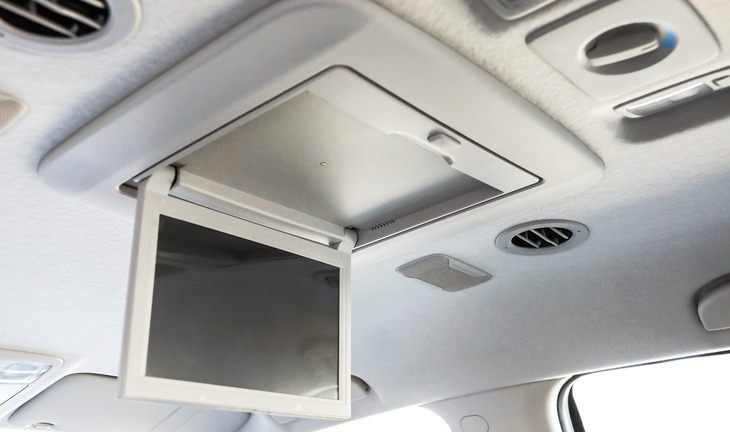 Best Overhead DVD Players 2022-Reviews & Buyer's Guide
Traveling long distances without some form of car entertainment can be quite boring, especially when traveling with kids. Besides a car music system, another entertainment system you can add is overhead DVD players. You can keep kids, family, or other passengers entertained when traveling by installing the best overhead DVD players. They're especially important for keeping kids occupied for a more comfortable journey.
There're several styles and designs of overhead DVD players. It can be quite overwhelming to determine the best brand to buy, especially if it's your first time shopping for them. Their features and prices vary significantly. Rather than taking much of your time to go through the challenging shopping process, we've prepared this guide to assist you to narrow down the options available. This will give you more confidence that you're installing the right overhead player.
Quick Comparison Table
Top 6 Overhead DVD Players
Overhead DVD players are not made equal. Their features vary greatly. Thus, you need to choose wisely for the best audio and picture quality, durability, and numerous multimedia sources. Let's review the top 6 overhead DVD players available today, including their top features, pros, and cons.
The Rockville RVD14BGB DVD monitor is designed as a flip-down car monitor. It's available in three different color skins including beige, grey, and black. This makes it possible to choose a color that blends with the rest of your car interior.
Top Features
Verdict:
The average size of the Rockville RVD14BGB DVD monitor makes it the perfect choice for installation in smaller vehicles such as hatchbacks, station wagons, and salon cars.
The XTRONS CM173HD overhead player is designed with tech-savvy users in mind. It features tons of innovative features that make it outshine many overhead players of its category.
Top Features
Verdict:
The XTRONS CM173HD overhead player is most suitable for individuals who prefer watching videos from a large screen in the car, thanks to its massive 17.3-inch monitor.
The Pyle PLRV1725 overhead display screen delivers high-resolution video output for enhanced video and picture clarity. Pyle has designed it to offer passengers an unmatched viewing experience from a wide range of audio and video sources.
Top Features
Verdict:
The Pyle PLRV1725for its infrared transmitter, making it possible to operate it with the provided remote control and use wireless IR headphones.
The Zbark PLRV1725is designed as an ultra-thin and wide TFT screen overhead player. It's mountable on the car roof to allow passengers to view the display more easily.
Top Features
Verdict:
The huge screen of this Zbark PLRV1725 overhead monitor makes it a superb choice for installation in spacious vehicles such as motor homes, buses, and coaches.
The Rockville RVD10HD-GR monitor DVD player is designed with affordability in mind. It's an all-in-one overhead player, thanks to its support for several media sources. With this overhead player, your entertainment options are unlimited.
Top Features
Verdict:
Looking for a budget overhead DVD player? If so, you won't hurt your pocket by choosing this Rockville RVD10HD-GR monitor DVD player.
This is yet another top-quality overhead DVD player from Pyle. It features a flip-down design and can be mounted on the roof.Its display supports full HD, with a screen resolution of 1280x800 pixels. It has a contrast ratio of 500:1, an aspect ratio of 4:3 & 16:9, and a brightness of 450 cd/m2.
Top Features
Verdict:
The fact that this Pyle PLRD146 roof mount DVD player comes with three color styles in the form of interchangeable housings makes it perfect for installation without interfering with the interior car décor. You can use the housing that best matches your car interior.
Factors to Consider When Choosing the Best Overhead DVD Players
Overhead DVD players come in a wide range of sizes, models, and features. Thus, it's important to be keen when shopping to ensure you make the right choice. Here're the most important factors to consider when choosing an overhead DVD player.
1. Screen size
One of the most important considerations to make when choosing an overhead player for your car is its screen size. The most common sizes range from 10 inches to 17.3 inches. You can also find smaller and larger sizes than this range. Choose a size that can fit in your car effortlessly. If you have a large vehicle, consider choosing a larger screen for more effortless viewing by all passengers. If you have a smaller car, then choose a smaller screen to fit without taking a lot of space.
2. Screen resolution
The screen resolution of the DVD player monitor also matters. A higher resolution means that you can watch videos and images in higher resolution. A full HD screen with a resolution of at least 1080 pixels would be your best bet as it's able to play high-definition videos without lagging. Also, the display should be bright enough with high clarity. Additionally, it should have a wide viewing angle when flipped open.
3. Supported media sources
Another important factor to consider is the supported media sources. Ensure it supports your favorite media source. For instance, if you prefer streaming music and videos from flash disks or SD cards, then ensure the overhead player has a USB input and/or SD card slot. If you like watching TV while traveling, then consider a player that can work with a digital TV tuner. On a similar note, if you like playing video games or watching movies from DVDs, then ensure the player you're choosing can play DVDs. An overhead player with support for multiple media sources would be a great choice.
4. Supported media file formats
The kind of file formats supported by the player will also determine its usability. To be safe, ensure it supports the most common media file formats such as MP3 and MP4. If it doesn't support common file formats, you'll struggle to find music or video files that are supported.
5.Controls and ease of use
It should be easy to use an overhead DVD monitor. Ensure it has all the most important controls for enhanced usability. A player that comes with a remote control would be an added advantage since you don't have to reach over to the onboard panel now and then.
Conclusion
Overhead DVD players are a great source of car entertainment. They're especially great for entertaining passengers when traveling. As you can see, they're available in several models, all with their own unique features. Thus, make your choice wisely for the best value of your money. By keeping this guide in mind, you'll find it easier to choose the best overhead DVD players.