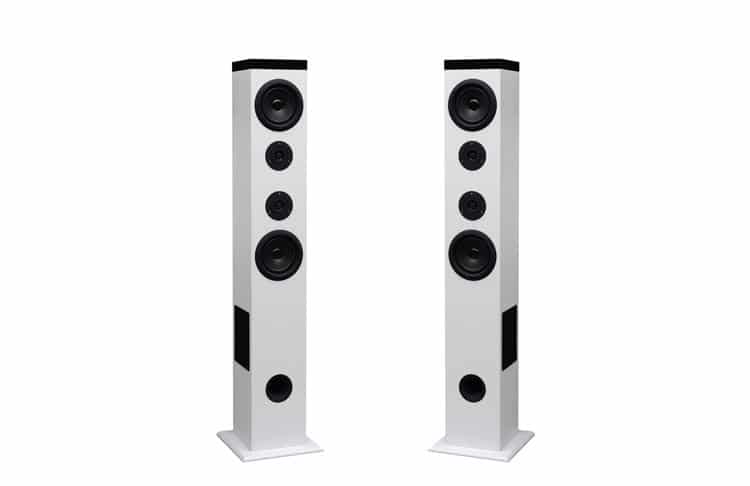 Best Floorstanding Tower Speakers Guide & Review of 2022
Soundstage extension is a critical concern for every home owner or audio installer aiming at an excellent audio experience. Usually, the challenge is creating a system with sound drivers that deliver frequencies across the entire range.
There are many means to this end, but only a few are inexpensive and convenient for many people. For instance, you can choose to install separate speakers for high-frequency, mid-range, and bass. While you might achieve balanced audio following this way, you'll probably have hurt your bank account, and the many speakers would take a lot of room space.
Floorstanding/tower speakers were designed to eliminate the need to install many speakers in an audio system. They are unbeatable in extending the soundstage. You cannot compare them to any other audio setup when it comes to enhancing the energy and passion of the original performance, whether it's music or film. Besides, they offer an inexpensive solution to the old-school problem associated with installing multiple speakers.
We've organized our top picks for the best floorstanding speakers in the quick comparison table below. Detailed reviews of each speaker follow shortly after the table.
Comparison Table
How We Selected Top Picks for the Best Floorstanders
We always delight in evaluating the performance of sound equipment. Quality audio is something the Audiomention team is passionate about. We feel obligated to support the ambitions of anyone who desires to enjoy good-quality sound from their entertainment systems.
Reviewing floorstanding speakers has been a worthwhile endeavor as we have been able to weed through the forest of great speakers on the market and find the best among them. We did not expect the research project to be a walk in the park. However, we were confident that our dedicated team of sound experts would step up to the task as always.
After the initial shortlisting of available offers from reputable brands, we got into the most interesting part of testing the speakers. The testing phase helped us to narrow down our selection list. We then analyzed reviews from real users to understand the applications and general perspectives about each speaker model.
And the process ends here; where we document our findings in an elaborate manner for you to get the most useful information on tower speakers.
Let's see the best of what the market has to offer. Shall we?
1. Polk T50 – Overall Best Tower Speaker
You desire to amplify your music, movie or gaming experience but your small or medium-sized room won't let you install big speakers. Polk's T-series speakers know no limitations to great audio. The T50 will help you to roll the good times with pleasurable audio. This floorstander packs up to 150 watts of output power and boasts a frequency response of 38Hz – 24kHz. Explore more on this highly-rated speaker below:
Unique Features of Polk T50
Verdict:
Without a doubt, Polk T50 provides great value for your dollar. You will hardly come across a highly-acclaimed floorstander with it's price range.


Take this incredible offer by Polk Audio and run. Thank us later.
Klipsch has upheld the high-performance principles of acoustic design for many decades now, and the R-625FA is befitting evidence for that. This tower speaker stands tall to win the place of the best tower speaker for immersive and impactful all round Dolby Atmos listening experience. Take a sneak peek into the highlights of this outstanding speaker.
Klipsch R-625FA Highlights
Verdict:
If you are looking for excellent speakers with ATMOS built in, look no further. Klipsch R-625FA provides the ultimate convenience and value for audio lovers who want to build next-generation surround sound at a reasonable budget.

Get a pair of these excellent floorstanding speakers today and revive your home theater for good.
3. Pioneer SP-FS52 – Best Budget Tower Speaker
Who said that you have to spend a fortune building a praiseworthy home theater? Industry leader Pioneer has made it possible for you to raise the standards when it comes to surround sound. The SP-FS52 embodies Pioneer's over 70 years' experience in audio design and engineering. See below reasons why you should consider buying this floorstander.
Why Pioneer SP-FS52 is the most ideal budget floorstanding speaker?
Verdict:
The SP-FS52 is an interesting offer from Pioneer. Its budget-friendly price, decent size, and fancy design makes it a worthy competitor among other high-end floorstanding speakers.
Take your listening experience to the next with this incredibly affordable tower speaker.
A 3-way, 4-drive tower speaker, Sony SSCS3 is the most versatile speaker in this list. Imagine feeling the passion in your favorite jams. What about having a soundstage that remains in harmony with your existing living space? That's the experience the SSCS3 provides.
Features of Sony SSCS3
Verdict:
This decent-looking speaker captures perfectly any kind of audio you are playing. It is reliable for adding powerful bass to your system without having to buy a subwoofer.
Sony SSCS3 is a promise of a truly amazing listening experience. Check its current price.
Dayton Audio T652 is a dual 6.5" 2-Way floorstanding speaker that delivers room-filling sound and beautifies your audio tracks for more pleasurable entertainment moments. Its design incorporates two woofers into a compact tower cabinet, an ideal configuration for an expansive soundstage. Dayton Audio tried to give you the most value for your money as the features below show.
Most distinguishing features of Dayton Audio T652
Verdict:
Maybe you have a spare receiver that you would like to use, or a workshop that needs decent sound. Dayton Audio T652 offers amazingly high sound fidelity at rock-bottom prices.

You won't regret trying out this tower speaker before considering more expensive models. It might be just what you need and it's quite a steal for the price.
ELAC may not be a name you hear every day in the sound industry but you'll be surprised to learn of its leadership in advanced sound technology. The Uni-fi UF5 offers you high-tech aluminum-cone drivers and a concentric high-frequency/midrange transducer. It supports a 3-way, bass-reflex design whose audio delivery is incredibly impressive. More on the features below:
Unique attributes of ELAC Uni-fi UF5
Verdict:
ELAC Uni-fi UF5 packs some really cool and intelligent features. It is undoubtedly exceptional in several ways. By an assessment of the speaker's sound performance features, we think that the speaker will give you great value for your money.

Have a taste of what advanced technology can do in sound reproduction. Try ELAC Uni-fi UF5.
7. BIC Acoustech PL-980L-PL-980R
First, it's important to get it clear that this floorstander comes as a pair – one to the right side and one to the left. The 3-way speaker pair is a perfect addition to an audio system in dire need of refined mid frequencies. You will love Bic Acoustech PL-980 for its performance in both home theater and music applications.
Features of Bic Acoustech PL-980
Verdict:
The PL-980L-PL-980R is yet another extraordinary floorstanding speaker from a reputable speaker manufacturer. This model fulfills your desire for a perfectly balanced soundfield with radiant bass.

The demand for PL-980s has been on the rise recently. Check out its current price so that you don't miss out on a great offer.
Guide for Choosing the Best Floorstanding Speaker
Floorstanding speakers are a special type of speakers. Their uniqueness is mainly due to the way they combine drivers of different sizes to serve the overall purpose of soundstage extension.
While elaborate reviews of different speakers (like the ones above) can be helpful in your search for the best tower speaker, a deeper understanding of factors to consider when assessing these speakers is more important. From sound quality and amp matching to enclosure design and sizing, several considerations are critical to finding a great floorstander.
1. Desired sound quality improvement
Most users cite sound quality as the number one reason for looking for floorstanding speakers. A good guess would be that you are also after improving the audio quality of your system.
If you are looking for fidelity, tower speakers that are big on neutrality and clarity are your best bet.
If you are searching for speakers that can give a boost to your bass, focus your search on floorstanders whose design emphasizes low frequency production.
Whichever range of frequencies you want to enhance, you can find floorstanding speakers that satisfy your needs.
2. Size Considerations
Consider the dimensions of your room, and then match them with an appropriately sized floorstanding speaker. If size limitations were non-existent, the ideal decision would be to get bigger speakers as they are often louder. However, you have to make sure that the speakers you choose don't impose too much on your space.
There are no standard rules on what speaker size fits what size of room space. Your choice should be informed by what you feel fits in your room. If you are a fan of loud sound and you live in a small apartment, there is nothing wrong with getting big tower speakers.
Noteworthy, size does not always imply bigger volume. There are smaller speaker that can give out satisfactory volume even for audiophiles. How loud a speaker can get is a product of many factors, including sensitivity.
3. 2-Way vs. 3-Way Tower Speakers
A two-way speaker has three drivers while a three-way speaker uses four sound drivers. When you are seriously after sound quality and balance across the frequency range, more drivers are preferable.
A 3-way tower speaker is more likely to deliver fuller sound than a 2-way speaker. This is not to say that 2-way floorstanders are inefficient. They, too, perform well. But if you really need that extra soundstage extension, then 3-way or even 4-way speakers take the day.
As you compare speakers with different numbers of drivers, also consider the frequency response of each speaker. The broader the range the fuller the sound delivered by the driver.
For instance, if one speaker has a frequency response of 100 Hz – 20000 Hz, its performance is not as good as one with frequency response of 20 Hz – 30000 Hz. The latter has a more extended soundfield, which translates to fuller sound, all other factors held constant.
4. Quality of cabinet Construction
Floorstanding speakers are capable of loud volume. However, they cannot perform to their best potential if the cabinet enclosure is poorly made.
Cabinet material has significant influence on the speaker's quality of construction, performance and longevity. Also, the cabinet's finish and footing matters as it affects the room's aesthetics as well as the stability of the speaker. Sturdy enclosures keep the speaker anti-resonant so that sound won't get distorted when volume is turned up.
With the persistent technological advancements in the sound industry, speaker design and materials are continually advancing. Sound designers and engineers working for reputable speaker brands such as Polk, Klipsch, Pioneer, Sony, and ELAC are keen to make cabinets that are robust.
MDF is one of the most common materials used for top speaker cabinets. Technologies like resonance chambers, internal baffles, and acoustic tuning are now available at affordable prices. You just have to check that the speaker you are planning to use is well-made.
5. Speaker sensitivity
As mentioned earlier, the sensitivity (measured in dB) of a speaker is an indication of how loud the speaker can get at a specific power level. The higher the sensitivity, the louder the speaker can get.
Our experience testing speakers informs that anything above 90dB means some really great volume. When your speaker has a sensitivity rating as high as 98dB, you don't need to pump the volume hard as the speaker's high sensitivity allows it to get loud with small volume adjustments.
6. How many speakers do you need?
The number of tower speakers you need depends on the type of your audio system. For a home theater setup, you may need two or more towers in the front channel. Two floorstanders will give an awesome boost to the surround sound.
If you are dealing with a music stereo setup, one floorstanding speaker is enough. A well-chosen tower will add significant value to the quality of your music. An exception here would be if your listening environment is a large area. You might need to add a second tower speaker to make sure that the sound covers the entire area.
Our top pick is…Polk T50
Polk T5O is considerably the perfect gateway to richer and more detailed audio. It might not be among the biggest floorstanders in the list but its specifications put it first in many ways. The medium-sized speaker can deliver frequencies as low as 38Hz and as high as 24000Hz, which is quite an impressive range.
What's more interesting about the T50 is its versatility. The speaker can work with almost all audio systems. In addition, it supports Dolby and DTS, the hallmarks of audio quality today.
This speaker can fit in small as well as big rooms, a very likeable trait according to the user reviews we analyzed. We cannot fail to mention the speaker's eye-catching appearance. If you love elegance in you décor and you are keen to give your interior an eye-catching finish, the T50 fits the bill. These features convince us that Polk T50 rightfully wins the position of overall best floorstanding speakers in 2022.
Conclusion
Nothing beats the joy of sitting back and enjoying high-quality music from a well-equipped system. What about the relaxation that comes with immersing yourself in the action of new blockbusters? Well, these experiences are within your reach. Incorporating tower speakers in your audio system is a crucial step toward living the experiences. Hopefully, this review of top floorstanding speakers will help you to find what best suits your entertainment needs.