Alpine is a well-known brand for car and home audio products. It produces high-quality speakers ranging from budget to high-end models. Adding a new pair(s) of Alpine speakers can transform your entertainment system and set it apart from stock stereos. The construction and build quality of a loudspeaker plays a critical role in the overall audio experience, and this is one area that Alpine excels in.
The company provides a huge assortment of loudspeakers to ensure there is something for every system and any budget level. The speakers come in different series; each series is designed to meet a set of standards for sound quality, acoustics, and more. The major Alpine speakers series include Type X, Type R, Type S, and Type E.
Our focus today will be on Alpine Type S vs Type R.
Both Type S and R are ideal for upgrading any factory car stereo with Alpine-quality sound. So which is better?
Generally, Type R speakers tend to excel in the high frequencies, but the midbass is somewhat lacking. On the other hand, Type S speakers deliver exceptional mid sounds, but the higher frequencies may require a boost.
In this article, our objective is to help you understand how Type S differs from Type R and what each series has to offer so you can make an informed choice.
Alpine Type R Speakers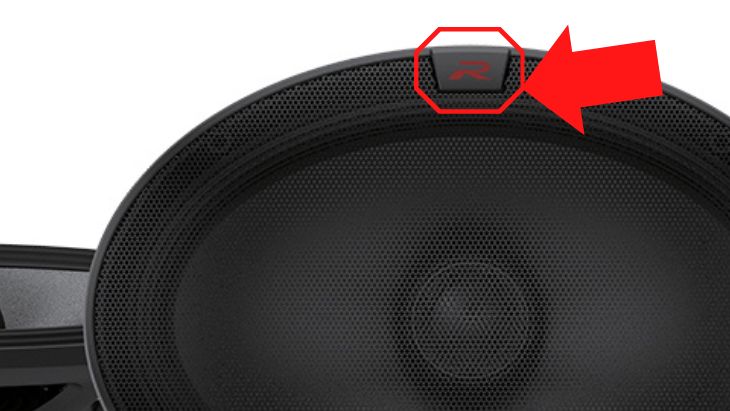 The Alpine Type R series is composed of both coaxial and components loudspeakers. These speakers are meticulously constructed using premium material and components to ensure pristine sound reproduction throughout the frequency range.
What's more, the Type R series offers both speakers and subwoofers to save you the hassle of finding matching components for your car audio. They also come in multiple sizes, so you should be able to get the right fit for your specific vehicle.
Design and Performance
As we mentioned earlier, Type R speakers excel in the higher frequencies sounds, but generally, they deliver a balanced performance across the entire spectrum. The speakers incorporate a ring tweeter design that provides a better HF response and excellent dispersion when compared to traditional dome-shaped tweeters.
In addition, these tweeters feature a copper cap to enhance the sound output and music detail. The tweeters feature a swivel mount to allow the speakers direct sound to the desired location.
The Alpine R-series speakers feature a solid cone structure that guarantees high-performance and excellent sound quality.
When it comes to motor construction, Type R speakers use a compact neodymium magnet that ensures optimum frequency response without distortion. The magnet not only delivers a fantastic sounding system but also improves the power handling capacity. So, if you're for speakers that will play the loudest for the longest period, the Alpine Type-R's will definitely deliver.
Alpine R-series subwoofers, on the other hand, are made using advanced cooling technology to provide a cooler operation, even when the system is pushed to the limit. The subwoofers come in a range of sizes and are designed to accommodate different workloads
Type R-speakers also feature a rigid yet light polymer frame that not only makes them durable but also easy to install. Besides, the frame allows for custom installations while minimizing fitness issues.
Type R speakers are designed to deliver quality performance using either an inbuilt amplifier or an external head unit power. The best part is that there are tons of aftermarket amplifiers that are compatible with Type R speakers.
Advantages of Types R speakers
High-quality engineering
They deliver high volume for an extended period
Accurate sound reproduction
They are perfect for customized installations
Provides a more precise setup
Advanced airflow to provide cool running temperatures
Disadvantages of Type R speakers
They often come at a higher price than their Type S counterparts
They somewhat lack clarity in the mid ranges
Alpine Type S Speakers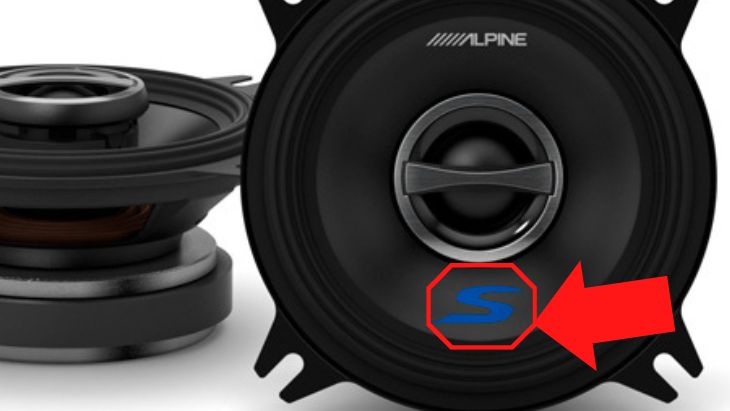 Much like Type R, the Alpine Type S speaker lineup offers both component and coaxial speakers. The speakers come in a range of sizes from 6×9 speakers to compact 3-inch midrange speakers; there is a size for almost every car model. Ideally, these speakers are designed to fit in factory mounting slots with very minimal modifications if any.
Design of Type S Speakers
Considering that they are from the same manufacturer, the design of Type S speakers is pretty similar to that of Type R. They operate equally well when powered by either inbuilt amplification or an aftermarket onboard amplifier. And just like Type R, Type S speakers are housed in a rigid polymer frame to allow for easy installation and enhanced sound output.
However, unlike Type R, which uses ring tweeters, Type S speakers feature the traditional soft dome tweeters. This tweeter design delivers a smooth high-frequency response with very few high-frequency resonances. However, when compared to ring tweeters above, the latter provides a cleaner and more extended upper range.
Alpine's Type S subwoofers are perfectly matched with the speakers to reproduce deep bass. Alpine designed these subwoofers with the same technology as one used in their high-end models to add depth and extra punch to the lower frequencies.
And as if that is not enough, the subs are relatively shallow than conventional models to ensure they will fit in locations where others might not.
Advantages of Type S Speakers
Appealing price range
Easy installation in a variety of vehicles
High-end performance
They also allow for custom installations
Deeper bass output; but you'll still need to get a subwoofer to add more boom
Disadvantages of Types S Speakers
Average sound quality when compared to the Type R speakers
Alpine Type R vs Type S- Is there a Winner?
Both Alpine Type R and Type are designed to work with most car stereos to add a fun sound experience to your rides. They also handle lots of volumes, so you can rely on either of the series to enhance your experience on the road.
The Type R series delivers the best in the uppermost sound range, and they are your to-go option when the craving for loud music is unstoppable. Their premium materials deliver a dynamic sound output with an incredible level of smoothness to give you an unmatched R-series experience.
On the other hand, if you're looking for a strong midbass response, then we recommended you go with the Alpine Type S speakers.
Overall, both Type R and Type S are designed to deliver an exciting listening experience, and you can rely on any R and S series speaker to build a great sounding system.
Michael Evanchuk is a San Francisco-based sound engineer with 20 years' experience installing, troubleshooting, and repairing commercial, automotive, and household sound equipment. Evanchuk owns an auto stereo center, where he offers highly competitive car audio installation and repair services. He has written dozens of articles on different sound engineering topics, all of which have been published in leading journals, blogs, and websites.