There are variant options for subwoofers, whether you want them under your couch or in the back of your car. And some of them are better than others!
Sundown Audio is now over 15 years in the sound industry. Some common brands of Sundown Audio include the X and U series. These series are great options for deep bass and lively harmonic-rich sound. They offer a wide range of features, but with some slight differences in performance.
There's more to look into and compare—their features, design, and performance in different scenarios. So, if you want a sundown audio system, and you're tone between a U series and an X series? Stick around, and let's unpack these two.
Features of the Sundown U Series
The Sundown U Series is an excellent option for those looking for a quality product at an affordable price.
The U Series features and purpose of production include the following:
1. Sundown Audio U Series Goal
It is no secret that the Sundown Audio U Series was highly anticipated in the market. Sold from 2011 to 2016, the Sundown line's "U Series" is the most direct replacement for the renowned Z-v.3 series. The U series aimed to produce high output levels at a lower cost.
2. The Sundown Audio U Series Subwoofers Cone Structure
It has taller cones than the earlier frames used on the Z v.3 series, which utilizes a range of cast aluminum frames. The U series includes:
An entirely new cast aluminum surround.
A larger and thicker surround than the Z-v.3 series.
Unique cast aluminum vent spacers.
A custom cone body.
3. The U Series Ferrite Magnet System
Magnets are crucial in most audio systems because they create opposing magnetic fields, which create vibrations. The Sundown U series use a ferrite magnet system. And for many years, ferrite has been the preferred magnet for speaker companies.
Ferrite magnets are considered non-permanent since they are made of ferromagnetic metal oxide. Since ferrite magnets often have low magnetic forces, multi-layer magnet motor designs are standard in U-series subwoofers.
4. What Are the Power Levels of Sundown U Series?
Do you think high power levels affect a subwoofer's clarity of sound? Sundown U series has a high power level of 1500-watt Root Mean Square or RMS. Speakers play louder and, more precisely, at higher power levels (watts). However, slight variations in power produce little of an audible difference.
5. The Sundown U Series Pole Extension
The U series has a long pole extension of about 0.6″, which helps to keep the coil under control at high levels of excursion. The U series' brand-new cast aluminum frame series from the have taller cones than the previous frames used on the Z v.3 series. The taller cones provide increased mechanical excursion capabilities and improved coil stability.
Features of the Sundown X Series Subwoofer
The X series subwoofers are variant. So, rather than spending lots of time researching and testing to help you settle on the best audio system, below are some X-series features to help you choose.
1. The Sundown Audio X Series Purpose
Sundown Audio's goal for the X Series was to get outstanding performance at an affordable price. The X Series has a dual spider design with a copper shorting ring on top of the magnet. The result is better efficiency, less power loss through heating, and more output from a smaller magnet size than other subwoofers on the market.
2. The X Series Subwoofers Cone Material
The Sundown X series has a custom tooled frame or basket, making the subs solid and lightweight. The cone material is also of much higher quality than that found in the Sundown U Series. It's made from carbon fiber. When used in large SPL builds, the carbon fiber cone allows for better driver control while maintaining the speaker's structural integrity.
The Sundown Audio X Series is one of the most affordable subwoofers to use a custom cone body which is carbon fiber. Carbon fiber is light and robust, making it ideal for high-end subwoofers. It's used on both sides of the subwoofer, which makes it rigid and stiff, but also expensive—and that's why it is best if you have deep pockets. Besides, it can withstand high temperatures without suffering any damage (like melting).
3. The X Series Magnet and Pole
The X-12 subwoofer has a vast faraday ring made of aluminum. One of the main functions of faraday rings is to reduce and frequently linearize inductance for the excursion, thereby removing distortion.
The X series tall pole makes it better in the forward direction. Besides, the forward movement creates a frequency boost in the upper midrange and midrange but not in the treble.
The U Series Vs. The X Series Performance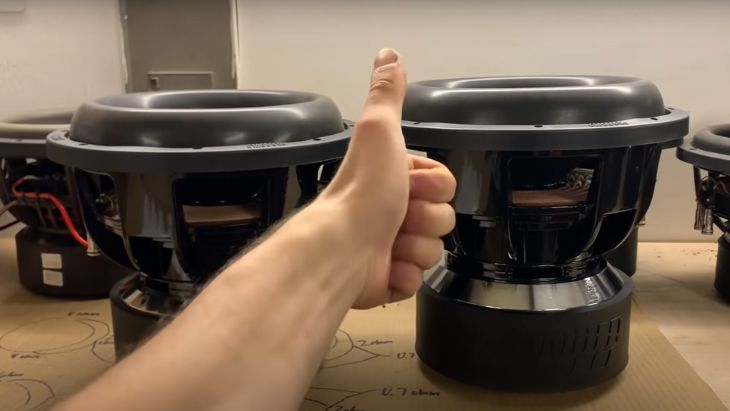 In comparison to the "new platform" woofers like the X series, the "U" series has a "punchier" sound because it is outfitted with a competent "conventional" suspension design. The same rationale also makes it more suitable for high-frequency SPL competitive classes. And the X series offers an optional "SPL" surround (also referred to as the Standard Roll).
The U and X series have an Xmax of 30mm one way. XMax is the maximum amount of movement a subwoofer voice coil can make in one direction before leaving the magnetic field, also known as the range of motion of the woofer. The distance between the pole pieces determines it. It allows these speakers to deliver excellent bass response while maintaining proper transient response and frequency balance throughout their range of operation.
The U series has a higher bass frequency. It produces an increasingly large hump in the higher bass frequency, and its punchy sound is considered warm to the ear. On the other hand, the X series hits loud with particular lows on bass.
Both motor sizes of the series have a copper shorting ring on top of the magnet. The copper shorting ring helps with heat dissipation and improves performance.
Which is better?
These subwoofers are impressive and outperform many other brands below their price point. The X Series is your best bet if you want clarity and detail in your sound. It features a unique transducer design that delivers detailed sound with an expansive soundstage. But if you're looking for something that will fill a large room with sound, the U Series is your go-to. Its powerful driver technology can pack a punch in more comprehensive environments.
Both speakers produce deep bass sounds without distortion, even at high volumes, so you can enjoy your favorite music without worrying about disturbing others around you!
Conclusion
Are you still stuck on which one of Sundown's U Series or X Series is right for you? It comes down to your priorities. The U Series is your best bet if you want a product that is more affordable, traditional, and best for competition. However, the X Series is the way to go if you're looking for a subwoofer with the Sundown new platform frame, spider, and surround technology. Now, you are already on the right track! Sundown audio is the way to go. Make your wise choice today!
Michael Evanchuk is a San Francisco-based sound engineer with 20 years' experience installing, troubleshooting, and repairing commercial, automotive, and household sound equipment. Evanchuk owns an auto stereo center, where he offers highly competitive car audio installation and repair services. He has written dozens of articles on different sound engineering topics, all of which have been published in leading journals, blogs, and websites.