If you're planning to upgrade your head unit, you'll have to choose between single and double DIN head units. Each stereo system is different in its own way, but they all serve the same purpose of playing music and radio in a car. However, which head unit is better between the two? What should you consider when making your choice? How do these two types of head units differ? If you're asking yourself such questions and wondering whether to buy a double or single DIN stereo for your new car, then you have landed on the right page. This article has all the information you need on how to choose between single DIN and Double DIN head units. Read on to find out.
What Does DIN Mean?
The word DIN originates from German. DIN stands for "Deutsches Institut fur Normung". Basically, DIN is a technical standard used as the basis for designing car stereo units by different manufacturers globally. The aim of having these "DIN" standards is to ensure that stereo units are designed with specific width and height for a universal match regardless of the brand name. The most common DIN configurations are single and double.
A head unit comes with a hardware interface comprising buttons and a screen. The interface controls the stereo as per the preferences of a user. Some modern head units actually come with a touchscreen display rather than buttons. As technology continues advancing, so do the features of head units. Nevertheless, let's look at the key difference between these two types of the car stereo.
Comparison of Single DIN vs Double DIN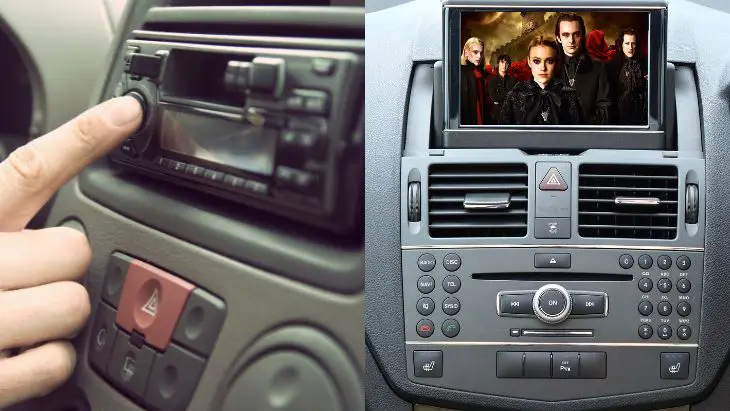 To make a better choice between these two options, you need to know their key differences. They differ in features, usability, size, and cost.
Differences in Features:
Basically, a single DIN stereo comes with fewer features than a double one. A single DIN is limited in size, making it hard to accommodate many features. Thus, it comes with fewer features. On the other hand, a double din comes with more features. It comes with more connections and more technologically advanced controls. For instance, today's double DIN units come with a high-definition video interface, GPS functionality, a gaming console for the back seat, and other such modern features. Single DIN units don't have such advanced features.
Double DIN units feature better audio sources than single ones. Audio sources in a double DIN deliver a better experience than those in a single DIN. Moreover, a double DIN comes with integrated compatibility with some applications and mobile devices. These features assist in reducing distractions while driving. Moreover, the radio receiver of a double DIN stereo is more sophisticated than that of a single DIN.
Differences in usability:
Since a double DIN has more features than a single DIN, it leads in terms of usability. Its smart technology makes it possible to control various options by a simple touch of the screen rather than pressing buttons like in a single DIN stereo. With a single DIN, you can't use mobile devices and apps to control the head unit but with a double DIN, you can control it from your mobile device. As such, double DIN units come with usability options that are ideal for digital users.
When it comes to complexity, double DIN units are more complex to use than single DIN units. Single DIN units feature a simple design, making them easier to use. As such, people who are not tech-savvy would find it easier to use a single DIN than a double DIN car stereo. With a single DIN, you'll get to listen to your favorite music without many control options to worry about like in a double DIN.
Differences in size:
The standards set by DIN for car stereo manufacturers make single and double DIN stereos differ in size. Basically, a single DIN is half the size of a double DIN. Just by looking at the two head units, you'll notice this obvious physical difference.
The face plate of a single DIN unit measures 7 by 2 inches whereas that of a double DIN unit measures 7 by 4 inches. Thus, a single DIN has a smaller interface than a double DIN. As such, the number of components in a single DIN is limited due to its smaller size whereas a double DIN features more components due to its larger size.
Differences in cost:
Considering the advanced features and complexity of a double DIN head unit, its cost of manufacture is higher than that of the less complex single DIN. Thus, expect a double DIN to be more expensive than a single DIN.
Should I Choose A Single DIN Or A Double DIN Head Unit?
In conclusion, your choice should be based on the features, usability, size, and cost. If you need more advanced features, then a double DIN will be the best choice for you. Also, if you want a head unit that is completely easy to use, then a single DIN would be the better choice. However, for tech-savvy car owners who don't mind the complexity and prefer playing around with advanced control options, then they can choose a double DIN.
When it comes to size, a single DIN is ideal for car owners who don't have much interest in the aesthetic appeal of the head unit and only want a simple stereo. However, car owners who prefer stereo units with a more aesthetic design can go for the larger double DIN. If your dashboard has limited space, a single DIN will also be more ideal than a double DIN due to its more compact size. If your budget is tight, then a single DIN will be a better option since it's more affordable than a double DIN. Thus, make your choice based on these factors and personal preferences.
You may also like to read: Best Flip out Head Unit- Top 8 Reviews and Buyer's Guide
Michael Evanchuk is a San Francisco-based sound engineer with 20 years' experience installing, troubleshooting, and repairing commercial, automotive, and household sound equipment. Evanchuk owns an auto stereo center, where he offers highly competitive car audio installation and repair services. He has written dozens of articles on different sound engineering topics, all of which have been published in leading journals, blogs, and websites.