In the past, wiring a new car stereo was fairly uncomplicated since there were only a few wires to connect. Today, aftermarket car radios come with multiple connectors, and often you'll need to figure out how to integrate them into your car audio.
For a successful wiring, you may need to acquire additional installation requirements that may or may not have been included in your new car stereo package. Some of the additional pieces of equipment that you'll need to acquire include a wiring harness adapter.
A wiring harness adapter allows you to install your aftermarket car stereo into the car electrical system without damaging the original wiring harness. It also helps provide optimal audio quality without the need to cut any wires. Without a wire harness adapter, you'll be required to match the color codes manually, which can be cumbersome and time-consuming.
Dual 12 Pin Wire Harness Diagram
Now, when it comes to choosing the adaptor connectors, you'll need to get one that is compatible with the multi-pin plug available in your car stereo. This will make it easy for you to plug the new wiring harness adapter into the place of the stock radio and also simplify the process of wiring your car stereo.
A dual 12 pin wiring harness is specially designed to allow you to add two sets of wires which are often coupled together. In addition, it allows you to install an aftermarket stereo effortlessly while allowing you to optimize the audio performance of your Nissan, Honda, Ford, or any other vehicle model.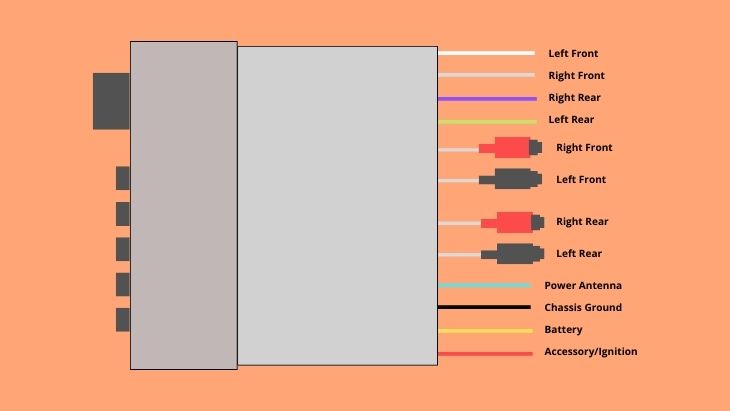 Generally, wiring adapters and aftermarket stereos use a standardized wiring color code. However, the different car models may require varying wiring diagrams so you may want to look for a harness that will work with your car. Using your car's specific wiring diagram also plays a significant part in installing a car stereo without causing damage to your car's electrical system.
The following table shows an example of a dual 12-pin wire harness and the function of each pin;
| | | |
| --- | --- | --- |
| Pin number | Color code | Function |
| 1 | White/black stripe | Left front speaker (negative terminal) |
| 2 | Gray/black stripe | Right front speaker (negative terminal) |
| 3 | Purple/black stripe | Right rear speaker (negative terminal) |
| 4 | Green /black stripe | Left rear speaker (negative terminal) |
| 5 | Gray | Right front speaker(positive terminal) |
| 6 | White | Left front speaker(positive terminal) |
| 7 | Purple | Right rear speaker(positive terminal) |
| 8 | Green | Left rear speaker(positive terminal) |
| 9 | Blue | Power antennae |
| 10 | Black | Ground |
| 11 | Yellow | 12 V constant/battery lead |
| 12 | Red | 12 V switch/accessory |
Dual 12 pin wire harness diagram
A 12 pin wire harness, like any other adapter, offers wire connections to the power sources as well as speakers' connections. It also includes ground and remote turn-on wires and sometimes the illumination/ dimmer lead.
All you need to do is to match up the different wires before you can go ahead and complete the installation. However, Figuring out the speakers' wires is often not a walk in the park. As a general rule of thumb, the speaker wires come in pairs, with each pair acting as a connection to one speaker.
Generally, the solid color connects to the positive terminal while the one with a stripe (usually a black stripe and sometimes a white stripe) goes to the negative terminal of the same speaker. You'll often need to repeat the process for all the other pairs
Dual 12 pin wire harnesses are not only versatile, but they are also compatible with multiple applications in different industries. Furthermore, the harnesses are specially designed to accommodate the complex wiring and sound systems that come with modern cars.
The best part yet, it allows you to add external audio sources, plus it plugs into the car's original battery without altering its visual effect. That said, always ensure to check the car stereo installation manual as well as the instructions on your dual 12 pin wire harness before you attempt any installation work.
Conclusion
For some audiophiles, the stock car radio is often sufficient. However, for others, getting an aftermarket is the only way to get the most the car sound system. When installing a dual 12 pin wire harness, you may want to take advantage of your car structure to hide the extra car stereo wires. If you have any hitches installing the wiring adapter, you can always refer to the installation instructions or have it installed by a professional.
Michael Evanchuk is a San Francisco-based sound engineer with 20 years' experience installing, troubleshooting, and repairing commercial, automotive, and household sound equipment. Evanchuk owns an auto stereo center, where he offers highly competitive car audio installation and repair services. He has written dozens of articles on different sound engineering topics, all of which have been published in leading journals, blogs, and websites.