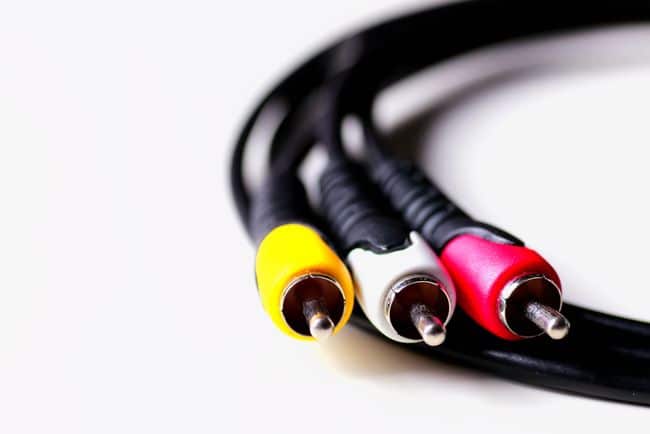 Best Subwoofer Cable for Clean and Accurate Subwoofer Output
Does a subwoofer cable offer any advantages over standard cables? Many people ask this question when looking for the best cable for a sub. It's important to realize that subwoofer cables are designed exclusively for connecting subwoofers to other components. Designers test these cables with amplified subs aiming to ensure flawless transmission of audio signal between the source and the sub.
Standard multipurpose cables may not aptly handle the nuances of amplified subs. A subwoofer cable is more likely to be optimized for higher subwoofer performance demands. For instance, they tend to have better shielding, which is crucial for seamless low-frequency signal transmission.
If you want to enjoy sound output that has minimal interference despite the presence of other sound accessories near your sub, using a subwoofer cable is the right way to go.
Being knowledgeable on the aspects to evaluate when selecting a subwoofer cable is useful in avoiding fuzzy sound output characteristic of poorly made audio cables. This comprehensive guide for choosing the best subwoofer cable explores 8 options from leading manufacturers. Careful testing and analysis of each cable has aided the creation of this well-curated review. You'll get useful insights for picking the right subwoofer cable for your audio setup.
Comparison table
| | | | |
| --- | --- | --- | --- |
| | | | |
| | | | |
| | | | |
| | | | |
| | | | |
| | | | |
| | | | |
| | Solid (LGC) Long-Grain Copper | | |
1. Mediabridge ULTRA Series Subwoofer Cable with Gold Plated RCA to RCA Connectors
Let this low-loss, wide spectrum coaxial cable establish a pliable connection between your sub and audio components such as stereo receivers and sound systems. It boasts of exceptional capabilities like high-efficiency connectors and incredible hum/static rejection over long runs. Through this cable, Mediabridge has delivered its unbreakable promise of deep and precise audio quality.
Features and benefits
Verdict:
This Mediabridge cable brings an immediate difference in audio quality. Noteworthy, its extensive compatibility has made it the most popular subwoofer cable on the market. In addition, it is built to last long.

Try Mediabridge ULTRA series RCA to RCA cable for a consistently clean low-frequency output.
2. AmazonBasics Subwoofer cable
AmazonBasics is our runner-up competitor for the enviable top position. This cable has subtle differences with the Mediabridge cable above and its performance is just as impressive. We tested it with different audio sources, and it amazed us with excellent bass response. See its features below:
Key highlights
Verdict:
This subwoofer cable from AmazonBasics is a great bargain. It's designed with very competitive materials. Further, its ability to enhance sound output beats what many cables can achieve.

Upgrade your sound system with this affordable but highly efficient and durable AmazonBasics subwoofer cable.
3. BlueRigger Subwoofer RCA to RCA Audio Cable
If you are after a "wow" effect in your subwoofer output, consider this BlueRigger RCA to RCA audio cable. The key selling point of this cable is a thicker than average conductor. Besides, it boasts in-wall use approval and certification for meeting relevant quality and application standards in the U.S.
Features of BlueRigger Subwoofer cable
Verdict:
Superior construction, easy cable management, and in-wall use certification rank as the most attractive features of this BlueRigger cable. It is available in varying lengths – 8", 15" and 35" – to suit your application needs.

This thick subwoofer cable could be the missing link to better sound from your system.
4. FosPower (3 Feet) Digital Audio Coaxial Cable
Versatility and longevity…

Are these among your top selection indicators when looking for the best subwoofer cable? If so, this FosPower digital coaxial cable deserves a place in your selection basket. It's a male-to-male RCA connector for subwoofer, Hi-Fi systems, home theater and HDTV.
Top highlights
Verdict:
Despite being thinner than most audio cables, this FosPower digital coaxial cable has proven reliable in a wide variety of applications. It is probably the easiest to handle, and it comes at a great price.

Let this subwoofer cable take charge of digital audio signal transmission in your sound system and you'll not be disappointed.
5. KabelDirekt 1 RCA Male to 2 RCA Male Audio Cable
Not many audio cables come with the capability to carry both digital and analog signals. KabelDirect has provided a male to male cable is designed for people looking for this capability. It is a double-shielded RCA Y-cable that supports subwoofer, home theater and Hi-Fi systems.
Main features
Verdict:
This analog/digital RCA connector does its job well. The cable itself is flexible and durable. Despite its one shortcoming related to maneuverability, it's fairly user friendly.

Get this well-constructed cable to complete your quest for flawless bass response.
Managing to keep induced noise out of your subwoofer's output is not an easy challenge. Belden, the manufacturer of this Blue Jeans analog audio cable, has stood up to the challenge and succeeded. The company has used advanced communication cable technology to make sure that the low-end frequencies get out of the sub unburdened by noise and other interferences.
Features of Blue Jeans Cable LC-1
Verdict:
This subwoofer cable may seem pricey but it delivers great value for the price. Its construction is top-notch, and the improvement it brings proves worthwhile. Besides, the cable can fit in-wall installations. What more could one want?

Blue Jeans LC-1 subwoofer cable is a knockout choice for analog audio transmission.
If you are after squeaky-clean sound quality from your sub, EMK has made a digital coaxial/subwoofer cable that can make it happen. This RCA to RCA cable boasts premium quality materials and EMK's outstanding workmanship. Distinctively, it is designed with HiFi-Super sound quality transmission. Let's see how competitive its features are:
Features of EMK premium subwoofer cable
Verdict:
EMK is a reputable audio cable company that rarely disappoints. The company has made a sleek, plug-&-play, digital coaxial/subwoofer cable that can work with almost any RCA-enabled sound device.

Don't hesitate to complement your great system with this high-performance subwoofer cable.
At #8, AudioQuest Black Lab male to male RCA audio cable makes a well-founded attempt to rival the best subwoofer cables on the market. This one comes with unique noise protection features. AudioQuest seems to have focused on ensuring a completely interference-free response. Did it succeed? Find out below.
Top highlights of this AudioQuest Black Lab sub cable
Verdict:
AudioQuest's Black Lab cable is perfect for connecting subwoofers to receivers and amplifiers. Although relatively more expensive than most subwoofer cables, it brings out the best in your sub, which is all that matters.

AudioQuest Black Lab RCA male to RCA male cable offers a connection you can trust for the best performance of your subwoofer.
Factors to Consider When Choosing the Best Subwoofer Cable
The wide variety of subwoofer cables offered by different brands can make the selection process a bit confusing, especially for people with little experience with this type of cables. Veteran audio cable users may also come across newer cables that have different design and performance capabilities compared to the cables they're used to.
All in all, the important thing is to know what really matters to the performance of a subwoofer cable. This knowledge gives you a clear understanding of which criteria to assess in each alternative under consideration. You get a means of eliminating the offers that don't meet your expectations as you move closer to your ultimate pick.
Here are the considerations to make when choosing a subwoofer cable:
i. Conductor
As you might already know, every cable has an electrical conductor running all along the length of the cable. For subwoofer cables, the conductor lies at the center. It's the reason for some people referring to the conductor as the 'core'. This conductor enables the relay of audio signals from the source to the speaker.
Two key factors affect how well the conductor transports signals – material and length. Copper is the most common material for subwoofer cable conductors. It's a lightweight electrical conductor that does its job excellently while keeping the cable sufficiently light for easy management.
Capacitance is the electrical resistance inside the conductor. Higher resistance means lower electrical conductivity, thus lower quality sound output.
The fact that most manufacturers use copper as the core conductor doesn't mean that all cables have the same conductivity. Some manufacturers employ technologies that enhance the effectiveness of the copper they use to design their cables. For example, KabelDirect used OFC (Oxygen-Free Copper), which has higher conductivity effectiveness compared to normal copper. Therefore, it's important to investigate keenly the kind of copper a particular manufacturer has used.
ii. Shielding
The type and size of material making up cable shielding determine how well the output is protected from interference. Most top performing subwoofer cables have aluminum foil, braided copper, or both. Cables that have two layers of shielding (dual shielding) perform better generally.
On the other hand, a subwoofer cable with too thin a shielding may not give you the best output. External interference from electromagnetic fields near the wire gets into the cable easily and cause noise that can cripple the speaker's sound response.
iii. Connector design
The two ends of the cable that plug into ports on respective sound components are the connectors. How the connector is designed determines its fit and signal transmission efficiency. Top brands are careful to include a connector that fits securely into the jack. Such a connector doesn't come out easily. Most importantly, a secure connection reduces the chance of noise pickup where the connector meets the port's core.
In an effort to ensure that the connector remains in top shape, manufacturers coat it with gold to avoid rusting and corrosion. This is in realization that rust can reduce the connector's structural integrity, which could result into less efficient signal transmission and a lower quality sound output.
iv. Flexibility and durability
Several things influence the durability of an audio cable. First, the material and design of the connector affect how well it holds up to repetitive plugging and unplugging. Cables with 24K gold-plated connectors and those with a turbine-style grip tend to last longer.
Secondly, the material used to make the exterior of the whole cable length must be tough and durable. It should not be too soft to give in to simple cuts and scratches. Plastic and heavy-duty rubber make the best materials for durability.
Besides, the exterior material should be flexible enough for easy cable management. Too stiff a cable cannot bend when you need it to bend.
The four factors above sum up the most crucial considerations for choosing a superb subwoofer cable.
Why Mediabridge Ultra Series cable is our pick for best subwoofer cable
Hum is the most concerning issue users have with subwoofer cables. For this audio cable, most people cite the complete absence of hum as the best advantage of using it. This cable does not pick up any noise when running past other cables and hovering above electrical components with strong potential to cause interference.
It is much thicker than factory subwoofer cables. Its solid feel doesn't prevent it from being flexible enough to allow for bending and looping. Besides, its connectors are well-built with gold plating, and they fit snugly in the socket. For ease of installation and uninstallation, Mediabridge has included plastic thumb grips just behind the connectors.
This cable is an absolute delight as an upgrade of any sound system. It comes in differing lengths to fit all applications. Despite having all these exceptional characteristics, the cable comes at a surprisingly affordable price.